Marius Syrah-Grenache BIB 5L 2022
Languedoc - Roussillon - IGP Pays d'Oc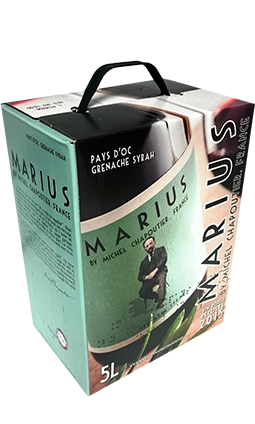 Tasting notes
Appearance:
red, purple, dense, clear and purple reflections.
Nose:
powerful, complex, black, spices, small red fruits, delicate vegetable touch.
Palate:
powerful attack, concentrated, structured, silky tannins. The aroma of red fruits.
Sommelier's advice: Marius advises you to serve this wine at 10-12 °C during an aperitif or a meal with friends.
Grape variety/varieties:
Grenache and Syrah
Soil:
To elaborate a balanced and complex cuvée, the vineyards we have selected are cultivated on clay-limestone slopes. Thus, not only do the vines benefit from the favorable sunshine conditions of the slopes, but also from the water reserves of the limestone to reach the desired maturity. Moreover, these vines are trained in cordon de Royat. This type of pruning allows us to obtain balanced grapes, with regular maturity. The rootstocks are adapted to the soil.
Vinification:
From the beginning of the conception of this cuvée, we wanted generosity, complexity, and elegance. Our choice was naturally made on the one hand for Grenache, whose bunches are medium-sized and whose maturation is regular. This makes it possible to obtain wines that are at the same time greedy, of beautiful color, balanced and smooth. We have also chosen Syrah whose power balances the natural sweetness of Grenache. The harvest begins with the Grenache because this variety has a strong potential of maturation leading quickly to aromas of over-ripening which are sought after in the great wines of Roussillon, but which we do not seek for Marius. Then, the Syrah is harvested at perfect phenolic maturity. Frequent visits to the plots allow us to follow these maturities. The grapes are macerated for about ten days at a controlled cool temperature to let the tannins and the fresh fruit aromas invade the juice and then the wine, without compromising the balance we are looking for. The pumping over is done with delicacy. When we are satisfied with these two balances, we press the grapes. As soon as the alcoholic fermentation is over, the wines are racked and left to rest without sulfur on fine lees to reinforce the complexity dear to M. Chapoutier. The two grape varieties are vinified separately. It is our blending expertise that then reveals the full complexity of the Marius red. A small addition of grape juice to perfect the acid balance and counterbalance the strength of the Syrah gives this wine a gourmet and elegant side.