Ribera Del Duero : a beautiful 2019 vintage for spanish wines
In the vineyard
05 March 2020

In order to fully understand 2019, it is important to go back first to autumn 2018, which was incredibly long and wet for the Ribera and our high-altitude vines (850 to 900m). Over the last three months of 2018, we recorded 190mm of rain whilst the first frosts only arrived mid-December. Thus, the 2019 vintage began on the right foot. The vines kept hold of their leaves as long as possible, building up good reserves, and rainfall brought good hydric build-up in the soil, which is so important before budburst. Winter was very much as usual: cold and dry for the Ribera. 
A great vintage is coming
Spring, a time when we are always fearful spring frosts, was also fairly conventional and several times we got close to minor frosts (May 4th and 6th) but fortunately without damage to Sotillo de la Ribera where the vines were just starting their budburst. We thought the frosts were over. But, as we say in Ribera, it can freeze until May 4th (June 10th in reality). This once again proved true with -0.5°C recorded on June 11th, fortunately without any detrimental effects! In spite of these stressful weather conditions, the vine used its water reserves from the underground perfectly to get initial leaf growing underway.
The season suggested a very generous harvest but the cold weather – in spite of the absence of frost – did impact production since bunches started to straggle a lot (side-bunches that go into twisty growth). With the dry conditions upon us, the vine had to dig deep into the underground into its winter reserves to meet its needs. Fortunately, these have been well replenished and there was no big deal with hydric stress. Better than that, from blossom (end of June) to ripening (mid-August) there was no stress despite an almost total absence of rain. Nevertheless, the grapes were smaller than usual (1.4g/grape on average compared to 1.6g/ grape in a normal year).
In terms of disease, no mildew or grey mould pressure emerged. We applied a 500 preparation before budburst and a 501 preparation before blossom, underscoring our conversion to biodynamic practices.

The harvest in Spain
We started picking on October 3rd in Lirios after some very heavy rains (20mm on September 15th) and then continued on with Camino Gumiel and Zumacares before stopping to bring in the Albillo Mayor, and we started again on October 11th to finish the rest of our Tempranillo plots. Finally, after a dry year, this last rainfall allowed the vine to re-balance and reduce the marc-to-jus ratio a little, thus enabling us to get the ripe grapes into the vat without the fear of over-extraction.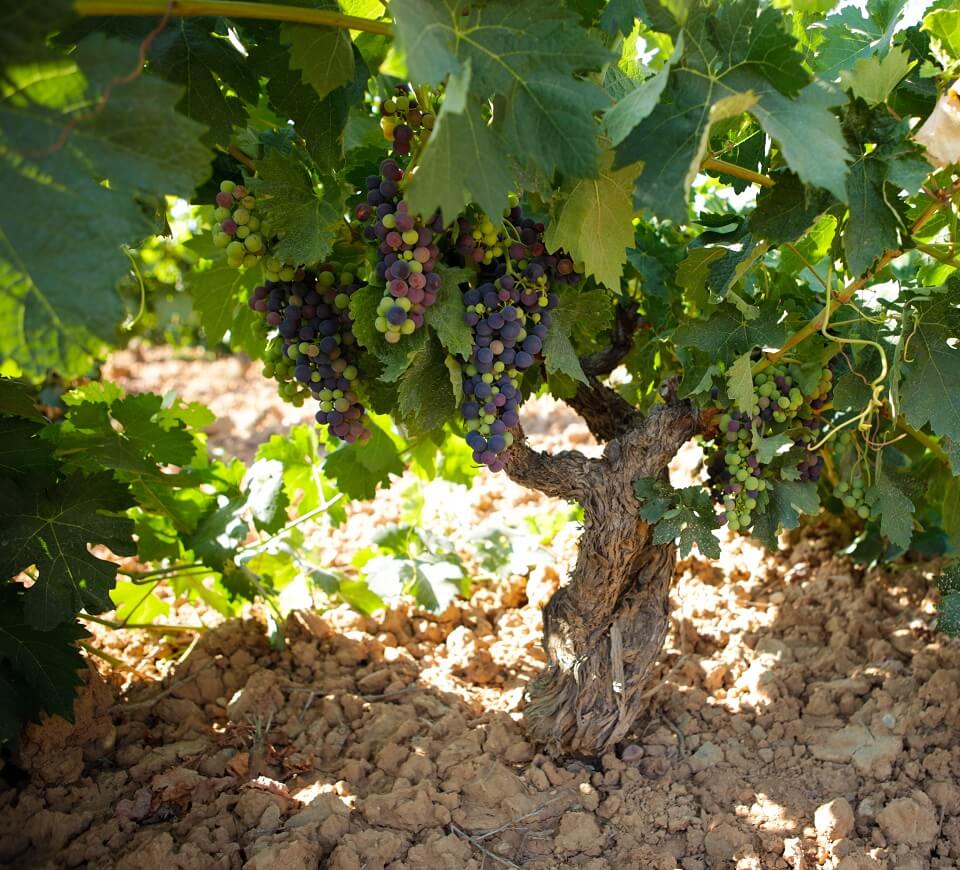 Fermentations are finished on the whites and the reds are safely in the vats. The Albillos (new white Ribera Del Duero appellation) have drawn attention to themselves again with their ability to retain coolness in this hot terroir because the palate is well rounded and acidity is definitely there. For the reds, the innately-concentrated grapes have produced some black, purple and very well-rounded wines with very limited 'lifting' because the raw material was of such good Quality. The wines are frank, the tannins still need a final polish, but the purity of the fruit is once again perfectly respected and offers a perfect expression of Tempranillo. Certainly, all the boxes are ticked for maturation to start under the best possible conditions, announcing a great year for Ribera Del Duero.