Everything you need to know about Ermitage and Hermitage appellation
In the vineyard
31 March 2021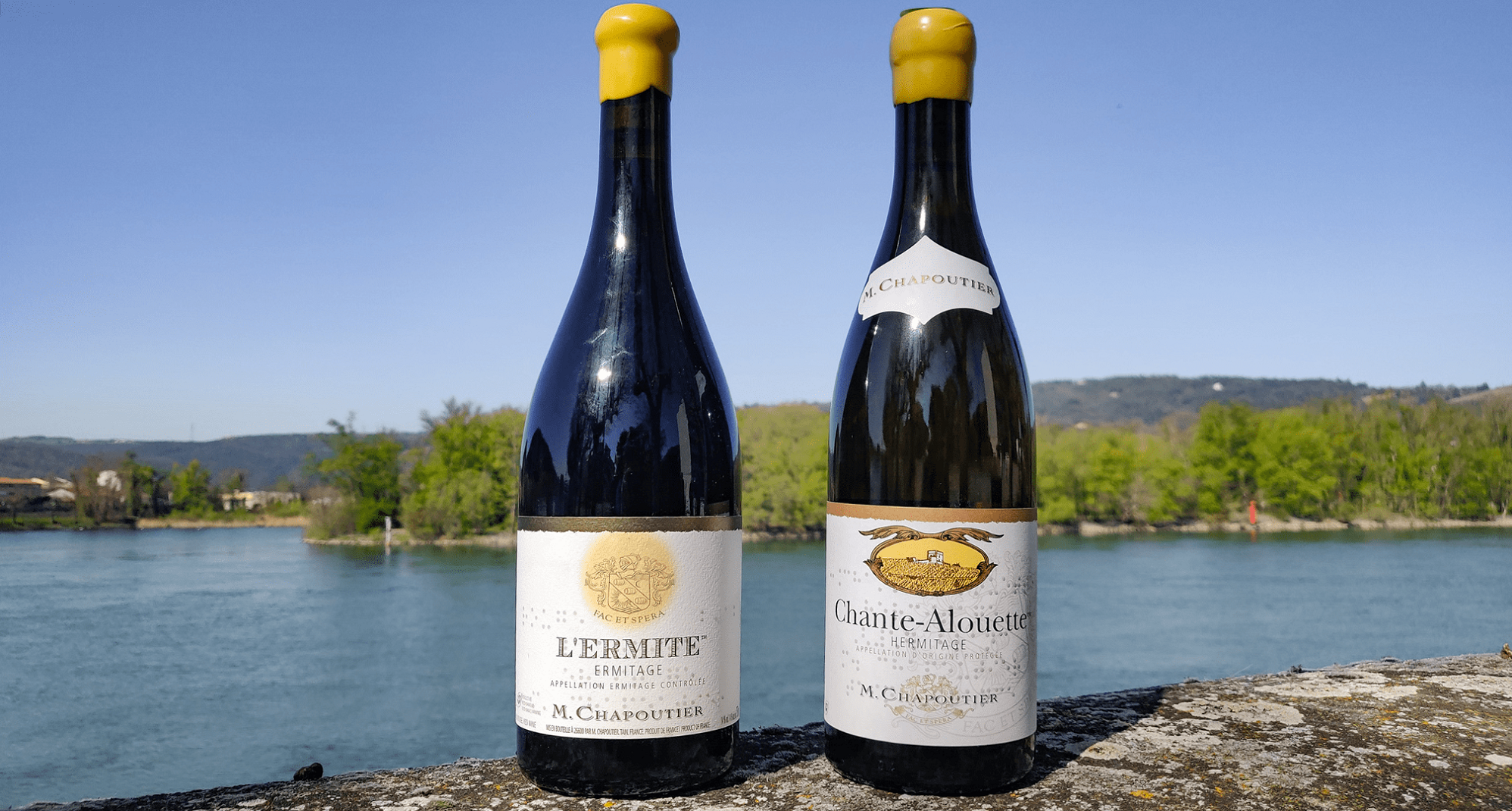 Hermitage has been a Appellation d'Orginie Protégée of the northern Rhône Valley since 1937.
The Hermitage appellation (or Ermitage) extends over 136 hectares along the left bank of the Rhône and over 3 cities in the Rhône Valley: Tain-l'Hermitage, Crozes-Hermitage and Larnage. Maison M. CHAPOUTIER owns 34 hectares of vines on the hill.





Hermitage and Ermitage: what's the difference?
Two writings are possible to evoke these wines.

Originally, the word was written "Hermitage" in memory of Gaspard de Sterimberg, who made himself a hermit to atone for his sins committed during the Crusades. He had settled on this hill and planted vines there.
Then in the 19th century, the English were the main consumers of French wine. But it was very difficult for them to pronounce this word "ermitage", which is why they added an "H" on the barrels in order to aspirate the E during the pronunciation. Then this habit has continued over time.

So how do you navigate it? "Hermitage" or "Ermitage"?

"Hermitage" will be inscribed on the bottles produced by blending several parcels of Hermitage hill. Like our Chante-Alouette or Monier de la Sizeranne wines.

"Ermitage", which is the original writing of the appellation, will be reserved for Sélections Parcellaires (plot sélection). That is to say, wines produced from berries from one and the same plot, thus offering a "photograph" of the terroir on which they are located, like our wine "l'Ermite" for example.



What are the grape varieties of the Hermitage hill wines?

The Syrah grape variety is used to make the red wines of the appellation, which represent some 70% of production. It is authorized to combine the white grape varieties Marsanne or Roussanne up to 15%. However, Maison M. CHAPOUTIER does not use this method, which is hardly practiced within the appellation.
For white wines, the winegrowers have the choice between Marsanne and Roussanne or a blend of the two grape varieties. Maison M. CHAPOUTIER has always chosen to use Marsanne exclusively, because its Quality of expression as well as its aromatic characteristics (floral, walnut) have been enhanced over the years.

Climate and terroir: two indicators illustrating the quality of these wines


The climate of the Hermitage hill
The appellation enjoys a semi-continental climate with Mediterranean influences.
Sheltered from strong northerly winds, the south-facing slopes of the Hermitage hill benefit from ideal sunshine, which has a great influence on the quality of these wines.

The terroir of wines in Ermitage and Hermitage
Hermitage Hill is one of the few places in the world to benefit from the 4 geological eras that have taken place over time. The Precambrian, the Paleozoic, then the Mesozoic and finally our era, the Cenozoic. These 4 geological eras alone contain all the riches of the 4.6 billion year old Earth.
Discover all the secrets of these two emblematic appellations thanks to our 3D map of the Hermitage hill.