2019: A year of extremes in Roussillon
In the vineyard
05 March 2020

The surprise of this 2019 vintage in Roussillon comes from the contrast between the extreme weather conditions and some very well-balanced wines with soft tannins.
A dry, warm winter
The least we can say is that our wine growers were not bothered by the rain during the pruning season. Indeed, from January to March only 50mm fell, compared to what you would usually expect, i.e. 150mm. We therefore entered the New Year with concerns about the lack of water… already.
A cold spring
We all remember the heatwave at the beginning of the summer but one of the other characteristics of 2019 was the exceptionally cold temperatures in spring: one degree less on average for April and May. This trend reaches its paroxysm in the first half of June. We could be justified in thinking that spring was coming at last. For several nights, the temperature ducked below 8°C with only 6°C on the night of June 13th! This had never happened before in Roussillon at that time of year. The result of this phenomenon was to delay blossom by more than 10 days, which allowed us to enter the maturation phase after some very hot periods. Fortunately, April did bring a little rain: the only month of the year with aboveregional averages with 71mm of rainfall.
An early summer heatwave
During the second half of June, we switched from April-like temperatures to a record-breaking heatwave. On June 28th, the thermometer reached 43°C, with a daily average above 30°C. This obviously brought a 'thermal' shock to the vine, burning the leaves of some of the younger vines. Fortunately, the phenomenon was fairly restricted: 2 hectares out of the whole of Domaine Bila-Haut. Vegetation was able to return to growth during the summer.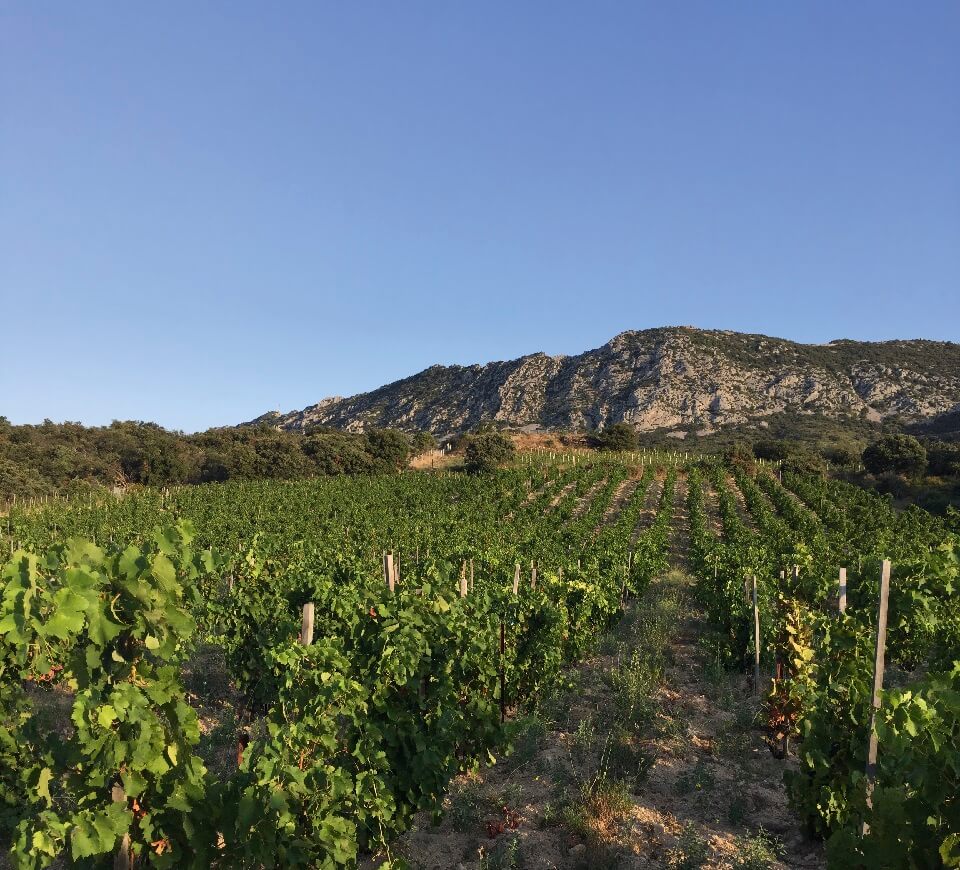 Some potentially life-saving rain!
July and August were to be divided up into heatwave spells above 35°C, but that is fairly normal in Roussillon. Whilst in certain years there will not be a drop of rain in July and August, this year we did have some light rain, in particular with 15mm on July 9th and 15mm on July 26th. It is not much, but it did help us to avoid any slowdown to maturity.
Fairly late harvest and very quick maturation
With the exception of the Chrysopée whites, picking really began after September 10th which is fairly late for these parts. As observed previously, it is the spring cold that delays the vine's cycle. In the end, it was this time warp that defined the vintage! On September 9th and 10th, 30mm of rain fell, the ideal quantity for the grapes – now entering a dehydration phase – to gorge themselves with water without splitting. This also prevented hindrance to maturation which would inevitably have happened given the small cumulative amount of rain.
Never in our sector had maturity been so close together and so quick across our vines. With the plant freed of the drought, perfect weather conditions in September between 25 and 30°C combined with some really nice sunshine and a second moderate rainfall of 24mm on September 21st to spur maturation on. We collected 80% of the harvest over two weeks instead of four ordinarily: it was quite a race!
To sum up, the periods when weather was most extreme occurred outside the maturation period and therefore had no impact on the Quality of the vintage. However, we were expecting a slightly 'hard' vintage but that is absolutely not the case. The wines are really wellbalanced this year: fine concentration, freshness, and always that minerality that characterises our rocky terroir, plus exceptional presence of fruit! The grenaches indeed offer very high potential and really stand out with their soft tannins, coolness and extraordinarily fruity tastes.